Christmas & Holiday Lighting Installation Services Redefined
North Pole Holiday Lighting® is a premier Christmas & Holiday lighting company in Palm Beach County and Martin County Est. 2010
A Premier Holiday Lighting Experience
North Pole Holiday Lighting specializes in creating holiday memories for South Florida's families and businesses. The team at North Pole Holiday Lighting is led by two brothers, who have a passion to help people create cherished moments throughout the year with their innovative lights displays since 2010!
  You can't go wrong with North Pole Holiday Lighting! From one palm tree to the whole neighborhood, we specialize in designing and installing professional holiday lights & décor. You'll find everything from Christmas wreaths or lit garland that will make your homes sparkle brighter than ever before!
Each job is one of a kind! Simply submit your information below and an NPHL representative will come out and create a unique design for your home or business. 
For more information, fill the Quote Form, or call
(561) 746-7776
Call today or fill out the form below for a FREE, No-Obligation Quote!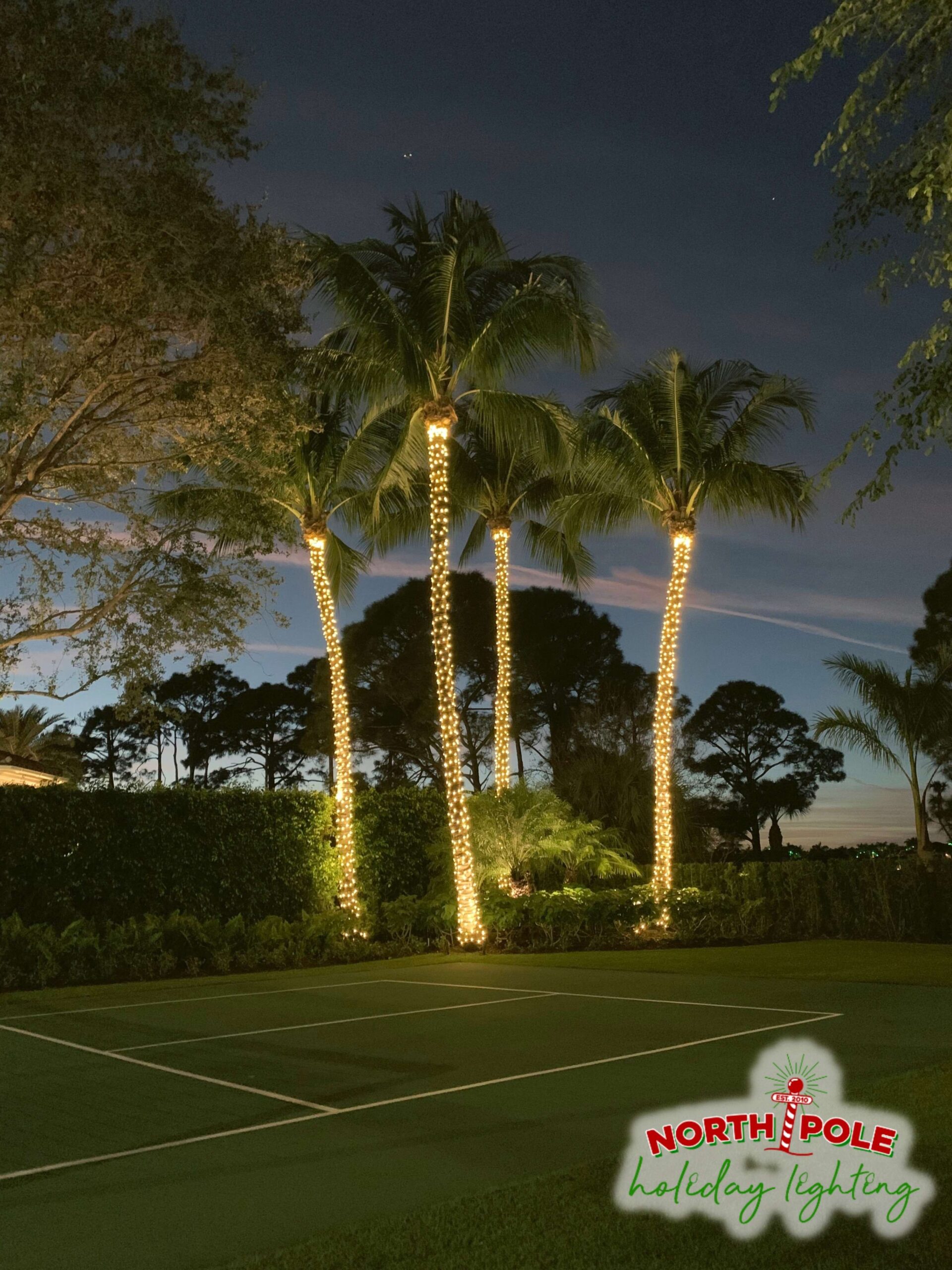 Being family-owned and operated allows North Pole Holiday Lighting and Decorations maintain the highest quality installations. We pride ourselves on offering great communication and a meticulous job site. We promise to treat your property like it's our own and will do everything possible to leave it exactly as we found it! Submit your information below to be on a very short list of VIP NPHL customers this year! We guarantee 5-star service with a smile!
North Pole Holiday Lighting will make your home come alive with life like, animated holiday scenes! We install brand new lights each year so you can enjoy them throughout the entire month. Plus our user friendly timers allow for easy on/off control of individual light displays or whole neighborhoods at once – without any work required from yourself whatsoever!
You'll never be able to find another home or business like yours again! submit your information below and an NPHL representative will come out with a custom design for you in just one day. We offer complimentary 48 maintenance so just sit back and enjoy the holiday season. Even if it's changing a single light blub, We've  You Covered!
At North Pole Holiday Lighting, we believe that everyone should be able to enjoy a winter wonderland at their own home during the holiday season. That's why we offer our Holiday Lighting Service to residents of Palm Beach County and Martin County. We understand that not everyone has the time or ability to put up their own Christmas Lights, so we're happy to do it for you. We also offer a wide range of lighting options, so whether you're looking for something traditional or something more unique, we can help you select the perfect lights for your home with a complimentary site walk with one of our friendly and professional lead lighting installers. If you're looking for a way to make your holiday season a little brighter, submit the quote form today.
Beautiful ❤️ efficient fast and great quality. Very clean and amazing qroup of people to work with. They called me right back and the lights were up within 24 hrs .. I couldn't be happier every night I come home from work. No cords to have to worry about and the lights are on timers .. beautiful job .. highly recommend
Baby Bluz
North Pole Lighting does our house every year and I could not recommend them enough! Having beautiful holiday lights without having to worry about trying to install them ourselves is the best Christmas gift you can get. Can't wait to see what they do this year!!
Kati Lea
I recommend North Pole Lighting to everyone! You can tell they've been doing this for a long time. Great servicec.
Garrett Vonk
Submit your information to request a FREE QUOTE!
Can't wait to hear from you!
---
Mon:-   9:00 am – 5:00 pm
Tue:-     9:00 am – 5:00 pm
Wed:-   9:00 am – 5:00 pm
Thu:-     9:00 am – 5:00 pm
Fri:-       9:00 am – 5:00 pm
Sat:-     Closed
Sun:-     Closed